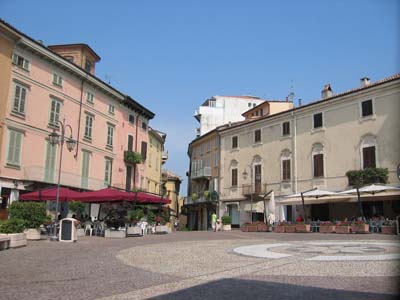 Moncalvo
Moncalvo is said to be the smallest city in Italy. It may be small, about 3500 inhabitants, but for the smallest city of Italy is has many services available.
On the main square there are two large terraces where you can eat an Italian breakfast (brioche with cappuccino) or in the afternoon enjoy a glass of prosecco and watch the locals pass by.
Thursday morning is market day with a lively busy food and goods market.
Every 1st Sunday of the month Moncalvo has a nice little antiques market. And in the hilly streets of the town centre you'll find a variety of shops, including a number of enoteche (wins-sellers).
On the main square you can climb some stairs up the to the tower of the old city walls and take in the panoramic view of the beautiful surroundings. On a clear day you have a view all the way to the Alps on the horizon.
If your lucky you might witness a game of "tamburelle" (usually in the weekends). It's a spectacular traditional North Italian ball game – a sort of a mix between tennis/squash/racquetball but then with a tambourine, hence the name – that's played against the old town walls. In Piemonte all the walled towns have teams, but in Moncalvo it's even more spectacular because the game court also includes two old towers that are part of the ancient city walls.
Of course there are sufficient restaurants from chic to a pizzeria. If you need to cool down, there is a lovely public swimming pool. See Piscine Le Vallette.
On the last two weekends of October Moncalvo is transformed into a large white and black truffle market. But not only truffles are available, there are all kinds of stalls selling local cheeses, wines, meats and (truffle) sausages and not to forget huge autumn forest mushrooms (funghi porcini).
Place mouse on pictures to enlarge